Adopt-a-Builder – to secure the maintenance of todays infrastructure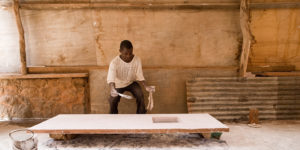 Apart from the maintenance of the existing infrastructure – many buildings are still from the original time of the hospital built in the 60`s. We have initiated and built some new, more appropriate premises, and some were renovated.
The following larger, extensive conversions and new buildings have been completed in recent years – see also the detailed information at Major Projects.
"PROJECT RADIOLOGY TRACT"
January 2018 – the new radiology tract is ready
With the new X-ray department a new era has now also begun. The digital X-ray equipment, the improved room layout (workflow processes), the radiation tightness of the walls to protect staff and patients (especially newborns) provide the hospital with a future-oriented infrastructure.
Adequate radiological diagnosis according to current standards will continue to make the hospital an attractive and competent employer in the Phalombe district.
"PROJECT OPERATING THEATRE"
26th October 2012 – the new operating theatre is opened
The new surgical unit is in the immediate vicinity of the medical technical services, the outpatients sector and the inpatient wards. The floorplan is very alike the ones we know from the "minature units" used in the military and civil defense force. Thus it represents a proven standard. The existing operating theatre is outdated and insufficient, nor do the practical and hygenic requirements suffice for a hospital. The current floor plan is extremely disadvantageous and does not allow for a reasonable refurbishing.
"PROJECT PATIENT WARD"
October 2009 – Official Ceremony of the new patient ward
The next logical step after this completion was the reconstruction of the 25 to 45 year old general wards. These premises were in dire need of renovation and optimization. The vacant space of the old children's ward was fully integrated into these renovations.
"PROJECT CHILDREN′S WARD"
4th September 2002 – the Children's Ward is open
The new ward relieves all present problems in nursing care in Phalombe.
It allows an efficient patient care with a minimal amount of staff
New adequate sanitary installations
More space for the intensive care
Good infrastructure for tuition, examination and preparation of food
Separation of sick children from grown-up patients
Simplification of the planned medium-term reconstruction of the general wards
Separate isolation rooms for children with infectious diseases
Taking into account the local custom, whereby mothers also stay in the paediatric ward
CORN MILL
A further infrastructure project to be mentioned is the corn mill. It is operated by the hospital and serves as an "income generating project". As such it provides a small contribution to the running cost of the hospital. Even though this project does not serve a direct medical purpose, the funds generated herewith are used to purchase drugs and equipment.